Hello!
I'm a big fan of XOOPS and I made a portal to work to translation: modules and xoops core to portuguese
X-TRAD
. This happened 2 years ago. Now we have a great team of volunteers / colaborators and volunteers / staff [administration] in this journey. Some weeks ago we was talking about 'how xoops was getting difficult' to new user.
A lot of versions, frameworks, special instructions to install , etc, etc. Obviously changes are welcome - to make our CMS better.
But the new user stay in trouble: which XOOPS? with or without frameworks? which framework?... and other questions.
Then we decide make a package with some modules - as other fellows already did it. This pack was build to contain some useful type of modules: forum, gallery, links, downloads, articles/news, feeds, calendar and others. Then XOOPSFACIL [mean XOOPSEASY] born
This pack [XOOPSFACIL = XOOPSEASY] uses ORIGINAL XOOPS [not a fork or a new CMS]. We replaced, however, some images, smilies and themes. Other concern was the size of the pack - we need think in new users with slow internet connection
But our work was incomplete ... we need turn XOOPS MORE EASY - to new users. And then we wrote a readme.html to show how the new users can create xoops_trust_path AND install the Protector. OK - but a lot of people don't know how create a database and others basic steps.
Then we produce 4 video-tutorials, and put in our site -
see example here
- in WMV format. And share in FLV [by photobucket - see links in images below] and Youtube [M4V].
First video: How to create a database in host with cPanel
Second video: How to setup Filezilla, adjust CHMOD to XOOPS and acess the install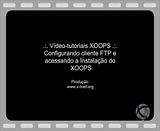 Third video: Install XOOPS [with XOOPSFACIL]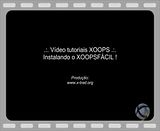 Fourth video: Exploring XOOPSFACIL - modules, themes etc.
* Site demo:
SITE DEMO
[created only with the resources of pack]
If you wish... you can see the remix [all videos in one]: click
here
Enjoy!
Beduino
[admin]
p.s my special thanks to: burning, andrax, izzy, topet05, artsgeral, edipinho, coyote, gopala and other friends